---
King v. Burwell Recap
Last month, the Supreme Court upheld subsidies for health insurance bought through the federal marketplace, leaving more than 400,000 Georgians secure in their coverage.
"We celebrate an important victory for health care consumers, and we are relieved that hundreds of thousands of Georgians can keep their coverage," said Cindy Zeldin, Georgians for a Healthy Future's Executive Director. "But there is still work to do. Georgia has the second highest rate of uninsured in the country, and three-hundred thousand Georgians fall into a coverage gap that was created by Georgia's decision not to expand Medicaid."
Now that the outcome of King v. Burwell is clear, we must not forget these workers, parents, and veterans in our state who still lack access to quality, affordable health insurance. It's time to close the coverage gap.
---
Need health enrolling or using your insurance?
Have you had a major life event recently, such as getting married? You may qualify for a special enrollment period. Pranay Rana, GHF's health care navigator, is here to help you get covered!   Email Pranay for an appointment or check out his schedule below.
Once you have health insurance, Whitney Griggs, our Consumer Education Specialist, can help answer any questions you may have about finding a provider, accessing preventive services, or filing a complaint or appeal.
Pranay's Schedule:
Switzer Central Library
266 Roswell St, Marietta, GA 30060
Every Thursday 11 AM – 4:00 PM
---
GHF surveyed and interviewed enrollment assisters across the state to understand not only the "what," but also the "why" behind the second open enrollment period.  The results of that research have led us to several policy recommendations to maximize health insurance enrollment and retention and to ensure that coverage translates to meaningful access to timely and appropriate medical services for Georgia health care consumers.
Close the coverage gap in Georgia. Approximately 300,000 Georgians fall into the coverage gap, meaning they do not qualify for Medicaid under existing income eligibility guidelines in Georgia but their income is still too low to qualify for financial assistance (tax credits) to purchase health insurance on the Marketplace. Eligibility for tax credits begins at 100 percent of the Federal Poverty Level, or $11,770 for an individual or $20,090 for a family of three in 2015, while Medicaid eligibility for most adults in Georgia cuts off at income much lower. Thirty states including DC have closed their coverage gaps thus far with promising results. We encourage Georgia policymakers to take this important step as well to ensure all Georgians have a pathway to coverage.
Set and enforce network adequacy and transparency standards. Many of the plans sold through the Health Insurance Marketplace are Health Maintenance Organization (HMO) plans that feature narrow provider networks. While these narrow networks can help keep premiums down, a trade-off many consumers may be willing to make, consumers do not currently have sufficient information to make this choice. There is no information available to consumers at the point of sale about whether a provider network is ultra narrow, narrow, or broad, and provider directories are routinely inaccurate. More transparency and oversight are needed to ensure that consumers have accurate and useful information to make these choices. It is also important that all provider networks allow for meaningful access to all covered benefits. To ensure this, we support putting in place and enforcing network adequacy standards.
Encourage public-private partnerships and remove unnecessary restrictions on consumer education and assistance. Many of the enrollment assisters we surveyed indicated that reducing barriers to partnering with state government organizations such as public colleges, universities, and health departments would lead to stronger and more effective partnerships. Specifically, many respondents indicated that improved coordination between enrollment assisters, the Marketplace, and the Georgia Department of Community Health (DCH) to better facilitate PeachCare for Kids and Medicaid enrollment would be helpful. The "Health Care Freedom Act," passed in 2014 as part of HB 943, prohibits state and local governmental entities from operating a health insurance navigator program and places other limitations on governmental entities. This provision has been counterproductive, creating confusion around what educational and consumer assistance activities local entities can engage in as they work to serve their community members. We recommend lifting these restrictions.
---
You're invited to Georgians for a Healthy Future's First Annual Consumer Health Impact Awards!
Please join us for a silent auction, dinner, and awards presentation on the evening on September 9th at Park Tavern.  We look forward to gathering with friends old and new as we celebrate the work being done by those dedicated to ensuring all Georgians have access to quality, affordable health care.  Tickets can be purchased below.
Do you know someone who should be recoginized for one of the below awards?  Nominate them here! Nominations will be accepted through July 31st.
You can view sponsorship opportunities here, or if you have an item you'd like to donate for the silent auction, please email Anna.
Linda Smith Lowe Health Advocacy Award
The Linda Smith Lowe Health Advocacy Award is given each year to an advocate whos work advances access to quality, affordable health care in Georgia. Nominees can be either professional advocates or volunteer advocates and must place a focus on vulnerable populations in their work and must work to achieve policy change. This award is named in honor of Linda Smith Lowe. Linda has dedicated her career to serving as an advocate on behalf of underserved Georgians who need a voice on health and human services issues.
Community Impact Award
The Community Impact Award is given each year to an individual or organization who has made an exceptional contribution to the health of their community in the past year. The impact of this contribution can be either at the individual, local, or state level. Nominees must work with individuals or local organizations to drive advancements in the health of the population served. Nominees may be health care providers, enrollment assisters, health educators, or others.
Powerhouse Policymaker Awards
The Powerhouse Policymaker Awards are given each year to local or state policymakers in Georgia who have exhibited excellence and courage in championing health issues in the public policy arena. Award recipients will have a particular focus on consumers or vulnerable populations and will have worked to advance our vision of a day in which all Georgians have access to the quality, affordable health care they need to lead healthy lives and contribute to the health of their communities.
---
All eyes were on health insurance last month and we were excited to celebrate the victory with the press and with Georgia!
---
GHF welcomes a new staff member! Meredith Gonsahn is Georgians for a Healthy Future's Health Policy Analyst. She joined Georgians for a Healthy Future in July 2015.  In this role she identifies key issues in health policy and how they impact Georgia health care consumers.  Meredith also monitors major trends in public and private health insurance, health system reform and other key policy areas to keep the organization abreast of emerging issues. Meredith comes to Georgians for a Healthy Future from the Atlanta VA Medical Center where she served as a Study Coordinator for a wound care clinical trial. Prior to this position, Meredith was a Research Associate for the Center for Health Policy and Health Services Research at Henry Ford Health System. In this role she identified and analyzed key health system reform policies at the Federal, state and local levels to shape the policy agenda for the System. She also served as a liaison to coordinate and submit Affordable Care Act demonstration project applications for System business units.  Meredith has a Master's of Public Health with a concentration in Health Policy and Management from Rollins School of Public Health at Emory University. She also has a Bachelor of Arts in History from Duke University.
GHF is also pleased to announce our Executive Director Cindy Zeldin's appointment to the Senate study committee for SR 561, the Consumer and Provider Protection Act. Full information about study committee appointments can be found here.
---
#ACAHereToStay and #ACAIsWorking started trending in response the the Supreme Court decision
Our favorite
tweet
last month: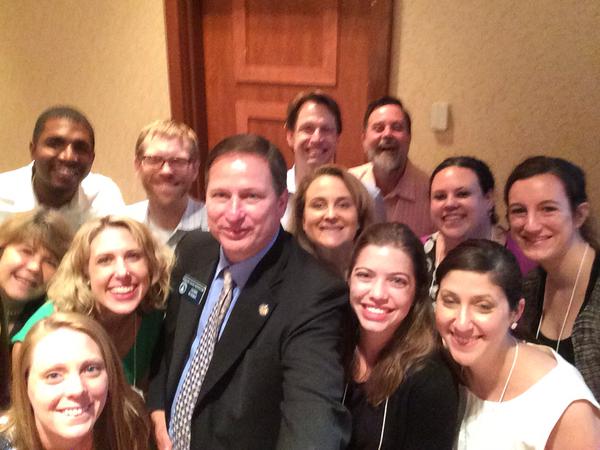 ---
Our favorite infographic last month: